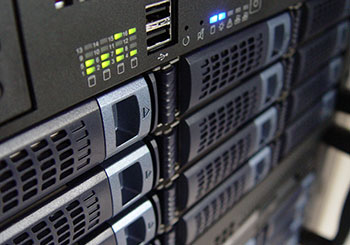 When you create a budget to develop your in-house IT infrastructure, you may realize that to "build it right", it's going to cost you more than you can afford or that it may present more risk than you want to manage. Hawk iSolutions Group offers comprehensive hosting services by providing reliable hosting solutions to small and medium sized businesses.
Hawk iSolutions Group can solve problems like these:
Connectivity – You need your internet connection to be dependable to access critical applications and for workplace productivity. While Spectrum may provide a low-cost, high-speed internet connection, your actual requirement may need a RELIABLE fiber internet connection. HAWKi's data center is served by multiple fiber vendors providing a highly reliable connection to your services and data.
Internet Boundary Protection – HAWKi implements a multi-level threat protection that begins with an advanced threat protection firewall. Off-premise data filtering prevents damaging Denial of Service (DoS) attacks from taking your systems off-line. Internally, VLAN partitioning allows each client to exist in their own alternate network, protected from internal and external threats.
Space issues – Whether you need a single server or a rack of servers, HAWKi will provide you with ample room at an affordable price. Our spaces are environmentally controlled, with robust power management infrastructure,
Always on/always available – HAWKi's data center has a battery-protected UPS system for power fluctuations due to storms or environmental problems. In the event of major power disruptions, a diesel generator will automatically start to keep your equipment operational and accessible. The facility is staffed with 24X7, protected with multiple secured doors, and has monitored video surveillance.
When your small/medium business needs to be accessible and available to your clients, your staff, and your partners and you want to make your technology budget stretch farther, call Hawk iSolutions Group today. HAWKi can show you hosting solutions to fit your business.